Lakhan Lal Sahu
Dhrupad Vocalist (Panvel, Navi Mumbai)
Studied Dhrupad Vocal in Guru-Shishya Parampara under Ustad Zia Fariduddin Dagar at Dhrupad Kendra, Bhopal (MP, India) from 1993 to 1998.
In 1999, He came to Mumbai and settled in Palaspe Village (Panvel, Navi Mumbai) near Dhrupad Gurukul, continuing his Riyaz under the guidance of his Ustad. He is giving Dhrupad concerts and workshops all over India and abroad.
About Dhrupad
Dhrupad is the oldest existing form of Traditional Indian Classical Music. It has evolved from the chanting of the sacred syllable "OM", which has been used as a meditation technique since oldest times. The sound of "OM" is claimed to be source of all creation.

It has spiritually purifying effect on the person chanting, as well as on the environment. That spiritual depth can be also experienced in a good rendering of Dhrupad music.
---
- Upcoming Workshops in 2016 New
Read more on above Latest News & Updates >>
---
Future Planning.. Wish for teaching at a Gurukul with residential facilities for students... Read More >>
---
Read more about Ustad Zia Fariduddin Dagar >>
---
Watch Video
Film : Interview (German) Dhrupad Sänger, Lakhan Lal Sahu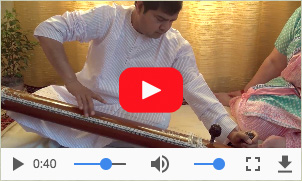 Performances
Scroll Down Here to See More... ↓